When:
March 31, 2030 @ 4:00 pm – 7:00 pm
2030-03-31T16:00:00-04:00
2030-03-31T19:00:00-04:00
Where:
Main Library downtown, North Building
800 Vine St
Cincinnati
OH 45202

Contact:
Transgender Advocacy Council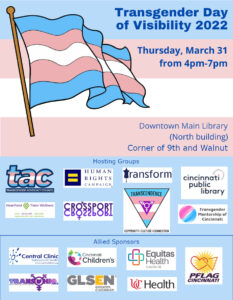 The International Transgender Day of Visibility (TDoV) is an annual holiday celebrated around the world. The day is dedicated to celebrating the accomplishments and victories of transgender & gender non-conforming people while raising awareness of the work that is still needed to save trans lives. The holiday was founded in 2009 as a reaction to the lack of LGBT holidays celebrating transgender people's successes.
We thank the Public Library of Cincinnati and Hamilton County for graciously agreeing to host TDoV this year at the Main Branch (North Building) on the Northeast corner of Vine & 9th Streets, Cincinnati, 45202.
Come downtown to celebrate with us, to meet the local organizations promoting the rights of and supporting the transgender and gender non-conforming community and to meet others like yourselves.
Family, children, friends and allies are welcome!
In addition to speakers, we will have access to the library's Makerspace for making custom buttons, a photographer to take your picture and an interviewer for the recording booth so you can tell your story as done on "StoryCorps."
We are looking for volunteers to help organize and work at this year's TDoV.
Are you a transgender or gender non-conforming person who is out and proud? Do you have a personal success story, skill or achievement in life and community that you would like to share? Volunteer to be a speaker at this year's TDoV and help shine a bright light on how we live and how we move, being successful and productive members of society.